News
Dr. Isaam Awad

New Article

Roberto Alcazar and Robert Shenkar and other members from the Awad Lab helped team at U Penn assess the effect of mTOR inhibitor Rapamycin on CCM development in adult mice, published in the journal Stroke.

Issam A. Awad

MD, MSc, FACS, MA (hon)

co-wrote an invited commentary in JAMA Open, on safety questions raised with computer assisted management of external ventricular drain for intraventricular hemorrhage, and the continued need of human supervision of complex care paradigms. 

 

Dr. Issam Awad

New Article

Ying Li and others from the Awad Lab published a review article in Brain Sciences, on inflammatory mechanisms in cerebral cavernous malformations and implications on pathobiology, biomarkers and therapeutic targeting.

Dr. Issam Awad

New Article

Romuald Girard and others from the Awad Lab worked closely with the Duke team on demonstrating hidden loss of heterozygocity in cerebral cavernous malformations human lesion specimens collected at U Chicago, using advanced single nucleus sequencing. The paper was published in the prestigious journal, Nature Communications

Issam A. Awad, MD, MSc, FACS, MA (hon)

The John Harper Seeley Professor of Neurological Surgery and Director of Neurovascular Surgery

will serve as part of the Trial Innovation Network, funded by the National Institutes of Health/ National Center for Advancing Translational Research (NIH/NCATS).

$3.999 Million NIH Grant

Congratulations on the R01 grant achievement! Dr. John Downey, in collaboration with Dr. Peter Warnke and Dr. Nicho Hatsopoulos, has successfully secured a noteworthy NIH grant amounting to $3.999 million.

Amanda Johnson

DNP APRN, CPNP-PC/AC

Congratulations Amanda for being a 2023 Distinguished APP Award Winner!

 

Dr. Isaam Awad

received an NIH grant

of $201,800 for research on Multiomic Biomarkers of Cavernous Angiomas with Symptomatic Hemorrhage [CASH], optimizing data for Machine Learning [ML] analyses. Exciting advances in brain bleeding diagnosis and prediction! 

Dr. Peter Warnke

New Article

Congrats Dr. Warnke for your new article titled: " Ambulatory Local Field Potential Recordings from the Thalamus in Epilepsy: A Feasibility Study"

Read the full article here!

Dr. Issam Awad

has been appointed to the Board of University Publications

The appointment begins on July 1st, 2023, and be for a three-year term.

Chief Resident Announcement for 2023-2024

Please join us in congratulating Dr. Ahmadpour, who is the incoming Neurosurgery Chief Resident for 2023-2024! 

Dr. Javad Hekmat-Panah Award

We are delighted to announce Je Yeong (Jae) Sone, MD, a distinguished medical student, as the inaugural recipient of the Dr. Javad Hekmat-Panah.

Read more here! 

Martin Herman, MD

New Article

Congratulations Dr. Herman for your new article titled: "In-vivo testing of a novel wireless intraspinal microstimulation interface for restoration of motor function following spinal cord injury"

Peter Warnke, MD

New Article

Congrats Dr. Warnke for your new article titled: "Seizure onset patterns predict outcome after stereo-electroencephalography-guided laser amygdalohippocampotomy."

Romuald Girard, PhD

New Grant

Dr. Girard from Awad's Lab was awarded a Pilot Grant entitled "Circulating miRNA's as distinct and common biomarkers brain vascular malformations", through the Brain Vascular Malformation Consortium funded by the National Institutes of Health. 

Dr. Peter Warnke

A New NIH Grant

Title: "Development of an EMG-controlled BCI for biomimetic control of hand movement in humans", in collaboration with Northwestern University and Department of Anatomy and Organismal Biology at the University of Chicago. 

Dr. Stephanie Hage

New Article

Congratulations Dr. Stephanie Hage (from Dr. Awad's lab) for your new article: "Impact of Socioeconomics and Race on Clinical Follow-up and Trial Enrollment and Adherence" in Journal of Stroke and Cerebrovascular Diseases.  

Dr. Eric Thompson

New Article

Congratulations Dr. Thompson for publishing a new article titled: "Recombinant polio-rhinovirus immunotherapy for recurrent paediatric high-grade glioma: a phase 1b trial." 

Available APPs Positions

We have two positions available! Click here to apply! 

Executive Administrator

Please join us to welcome Iliana Rodriguez, our new Executive Administrator. 

2023 Matches

We are excited to announce our 2023 Matches 

Carmen Pons Torres & 

Je Yeong (Jae) Sone

New Article

Congratulations to Dr. Satzer and Dr. Warnke! 

Enhancing cortical feedback for bionic hands - see the new preprint here!

New Article

New Article

Breakthrough discovery of plasma metabolites reflecting the transcriptome and gut microbiome of cavernous angiomas. Published in the Nature journal Communications Medicine on 3/3/23!

New Grant

Congratulations to Dr. Polster for receiving a grant entitled "the influence of the gut microbiome on radiation necrosis".

New Article

Congratulations to Dr. Mendoza-Elias, Dr. Satzer and Dr. Warnke for their new published article titled: Tailored Hemispherotomy Using Tractography-Guided Laser Interstitial Thermal Therapy. 

Comer Children's Hospital Annual Review

Novel laser hemispherotomy ends debilitating seizures and restores lives! Dr. Peter Warnke is featured in Comer Children's Hospital Annual Review.

RNS System NAUTILUS Study

Do you know anyone who has generalized seizure? NAUTILUS Study could help them! 

CCM Grant Award

The Neurovascular Surgery Research team received an award of grant CCM

International Stroke Conference 2023

Dr. Awad's team presented 13 original papers at the American Stroke Association International Stroke Conference in Dallas, Texas.

MHFP Translational Research Grant Program

Dr. Peleg Horowitz

did a complex brain tumor surgery at Silver Cross helps New Lenox grandmother resume active life!

The American Epilepsy Society

Dr. Warnke and Epilepsy surgery group at the UChicago runs a workshop at the American Epilepsy Society on Dec 2-6, 2022! 

Safadi Pilot Grants 2023

This application is closed! Application due December 1, 2023 for Pilot Awards commencing January 1, 2024. Stay tuned for the application.

New Articles

Congratulations to Dr. Ghomalpour for publishing two articles, including an article in Journal of Computer Methods and Programs in Biomedicine and another one in Communications Biology. 

 

Eric C. Leuthardt, M.D., FNAI

Neuro-Oncology Implications of Resting State fMRI

Wednesday November 9 @ 7:30 am

Lawrence Lenke, MD

Vertebral Column Resection (VCR) for the Treatment of Severe Spinal Deformity

Wednesday October 19 @ 7:30 am

Postdoc Appreciation Week

Grand Rounds Series

Douglas L. Brockmeyer, M.D., F.A.A.P.

Wednesday, September 21 @ 7:30 am

Neurosurgery team performs laser hemispherectomy on child with epilepsy

Brain Cancer: What to watch out for and other FAQs

Predicting brain bleeds with smart blood tests

After semitrailer crash, a trucker receives life-changing brain tumor diagnosis and 'awake' operation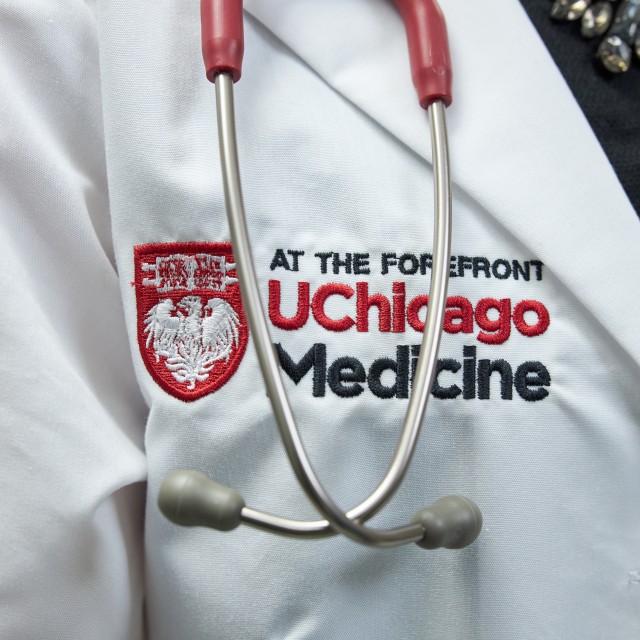 Programs
The history of neuroscience here at the University is one that we pride ourselves on. The Department of Neurological Surgery is committed to excellence in patient care, research, and teaching.
We are devoted to the evaluation and treatment of both pediatric and adult neurosurgical disorders. The Department of Neurological Surgery has been divided into subspecialty programs to better identify our expertise within neurosurgery. We invite you to take a deeper look at our surgical specialties, including our clinical specialty programs, esteemed faculty, and neurosurgical research.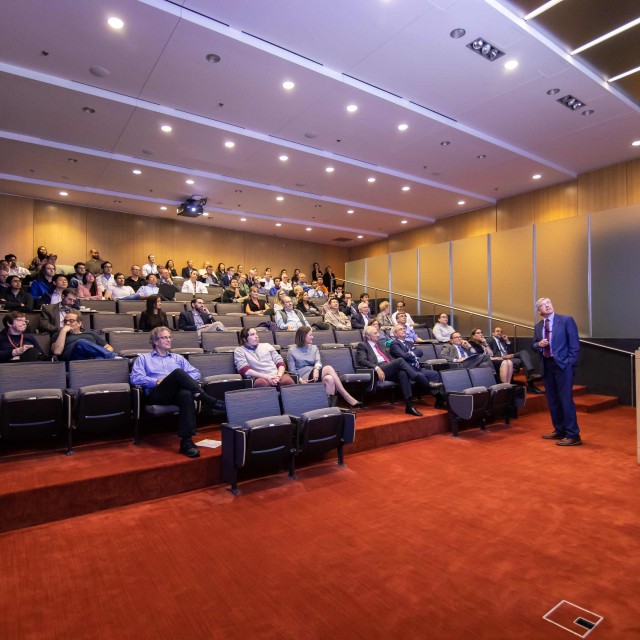 Education
Our faculty and staff are committed to providing the most comprehensive training to the brightest minds in medicine.
Our goal is to educate future physician-scientists who will advance the future of academic neurosurgery and make a lasting contribution to the care of neurosurgical patients. Our training programs offer the opportunity to obtain both outstanding clinical and basic science research experience in one of the top academic medical centers located in the city of Chicago.
Quick Links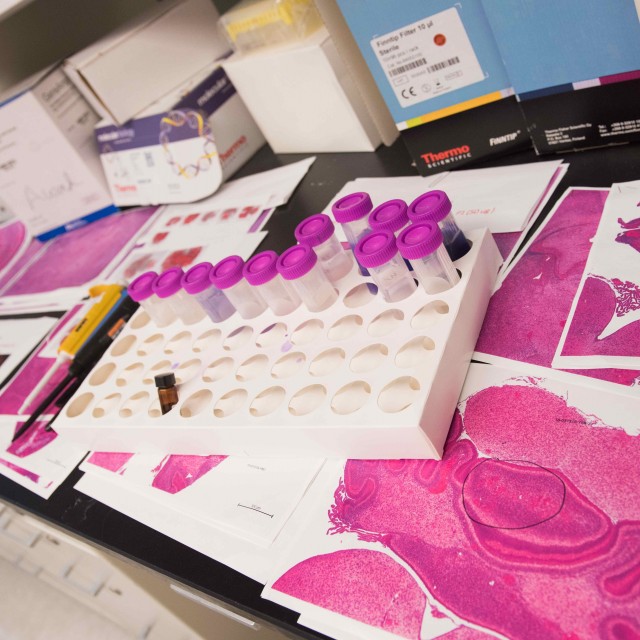 Research
The Department of Neurological Surgery is leading the way in neurosurgical research and development. 
Currently, the Department supports ongoing investigations into treatments for brain tumors, epilepsy, CNS congenital anomalies, and neurovascular disease. Use the links below to learn more about our research programs and faculty-led research.
Quick Links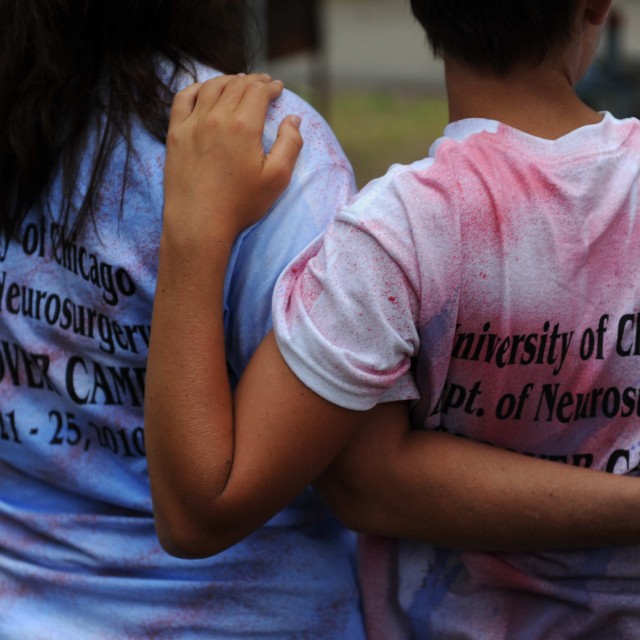 Patient Care
Our patients are seen by a team of interdisciplinary specialists who are dedicated to the finest tradition of care.
The Department of Neurological Surgery at the University of Chicago Medicine is devoted to the evaluation and treatment of pediatric and adult diseases of the central nervous system. We use a full range of neuro-medical and neurosurgical technologies to provide the most up-to-date and effective treatments for the entire spectrum of neurological disease.
 
Quick Links